Richard Hill
Position: Scrumhalf
Born: 4th May 1961 in Birmingham
Height: 5ft 7in
Weight: 12st 3lb
Education: Bishops Wordsworth School, Salisbury and Exeter University
Achievements: Bath Captain, England Captain
Honours: England (29 caps)
Debut game: 20th April 1983 v Maesteg
Final game: 7th May 1994 v Leicester
Number of Appearances: 248
Career details:
Arguably the finest scrumhalf to wear the blue, black and white jersey of Bath, Richard Hill entertained the Recreation Ground faithful for more than a decade raising the boundaries of scrumhalf play to new levels.
Richard won 29 international caps for England, including captaincy, but during an illustrious career with Bath, he won numerous League and Cup medals, demonstrating his undoubted skills as a world class performer.
Richard was nicknamed "Duracell" by his team mates due to both his copper coloured 'top' and his reputation for keeping going when team mates 'batteries' were just about expended. He epitomised the inevitability of the professional game, spending every available hour at the Recreation Ground throwing out lightning quick passes and practicing his sprints, gaining a reputation as being one of the most dedicated athletes in the sport. He established the benchmark for all aspiring scrumhalves.
Richard gave all his time in the pursuit of excellence and was deservedly rewarded with International recognition. It was a commitment that few could match in the amateur era. He contributed to a more adventurous style of play with the squad acknowledging that individuals could not be expected to maintain the vital edge for every game: rather that there should be a continuous conditioning process so that players could peak for targeted fixtures.
Arguably his finest hour came during the 1986/87 season when he rallied the Bath team in an amazing comeback to defeat Wasps in the John Player Cup Final at Twickenham. Richard , who was first capped aged 23 in 1984, was named the 101st captain of England for the ill-fated Five Nations tournament. Cruelly let down by his team mates and made a scapegoat he was relieved of the captaincy after a mass brawl at Cardiff Arms Park. However, he bounced back and returned to the international fold and was one of the four Bath backs to play in the 1991 World Cup Final against Australia – it was to be his last appearance for his country.
Bath's international flyhalf, John Horton, was the first to benefit from Richard's speed of service followed by Stuart Barnes. A gifted footballer in his own right, Barnes forged a fruitful half-back pairing with Richard which underpinned the Bath Club's marvellous successes in the 1980s and 1990s. Between the pair of them the Bath half-backs set alight the English game and along with Brian Ashton, the Bath Coach, pushed the standards of play at Club level to new heights.
Richard continued to perform to the top of his abilities for Bath into the early 1990s, enjoying League and Cup successes. His last game at the Recreation Ground was in April 1994 when Bath beat Harlequins to secure the Courage League title. Fittingly Richard's swansong was the 1994 Pilkington Cup Final where he played a significant part in Bath's 21 – 9 victory over Leicester Tigers in what was, at the time, the largest ever crowd for a club game at 68,000.
Richard made 248 appearances for the 1st XV, scoring 643 tries and was Captain during the 1986/87 and 1987/88 seasons.
Richard's first appearance on the Rec was on 23rd March 1983 playing for Exeter University. He was the game's dominant figure and his performance greatly impressed the Bath selectors. Along with fellow student David Sole he was soon dedicated to the Bath colours and destined to provide a pivotal role in so many of Bath's Cup and League successes.
Following his retirement from playing he has held a number of coaching and other roles within the game. He is currently coaching in France.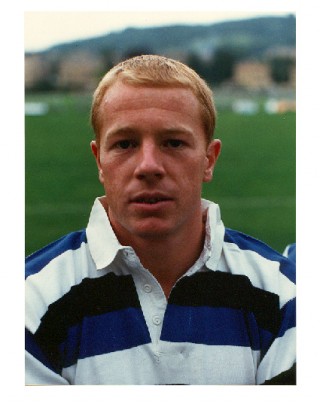 This page was added on 30/11/2014.